Surrender to
French

.
Online French Lessons
Learn French daily with an e-mail, a story, and a personalized correction. In each lesson, follow the adventures of Victor Hugo as he explores the Francophone universe. The courses are humorous, practical and include a wide variety of accents. Our lessons are adapted for post-beginners (from 15 years old).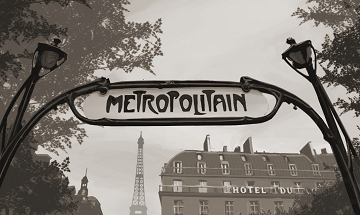 Test Frantastique today!
To activate your free week of lessons, just fill in the form below:


By entering your email, you agree to our Terms of Use and consent to our Privacy policy (to summarize, we respect your confidentiality and right to privacy!). Since our lessons are sent by email, you will receive emails from us! You can unsubscribe at any time.
---
1 A fun, daily e-mail
Every day, you'll receive a selection of exercises, texts, dialogues, and mini-lessons in French. These include original stories and historical notes that match your level and objectives.
2 Personal feedback
Once you have sent your answers, you will receive a correction with your daily score, as well as personalized explanations and information.
3 Intelligent lessons
The course adapts to your wishes, needs, and learning speed. An artificial intelligence engine builds each lesson to focus on the points you struggle with, as well as the topics you've requested.
---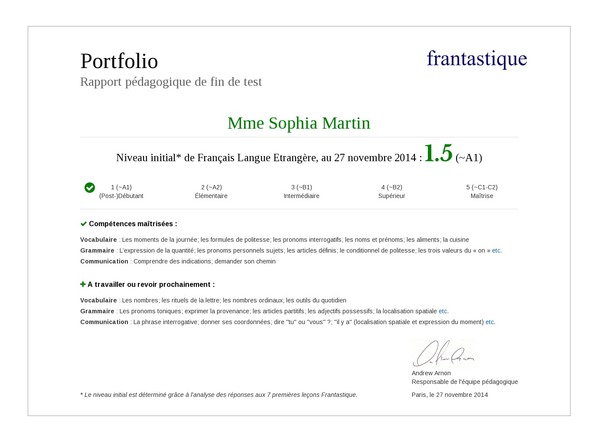 Level assessment
Our free test includes a level assessment and a Portfolio (a personalized pedagogical report).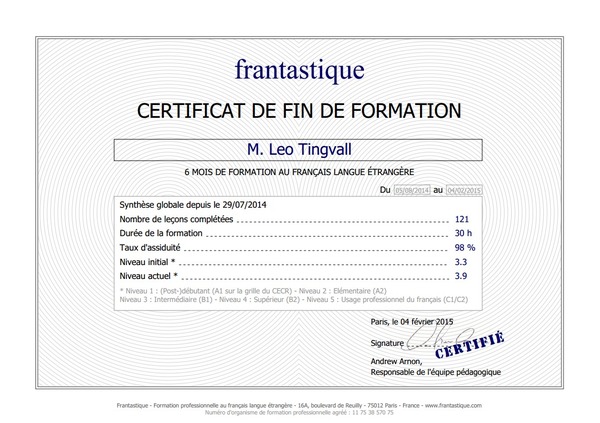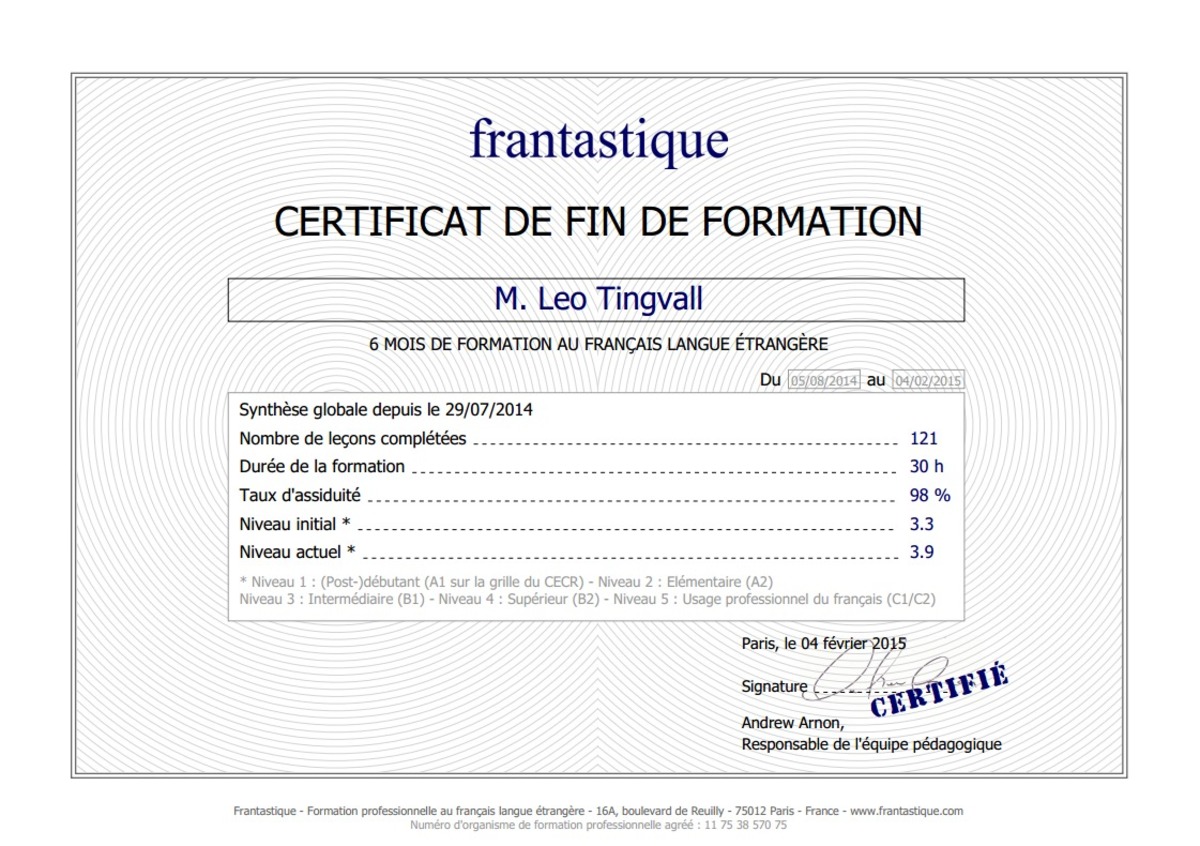 Diploma & Certification
Upon finishing your training, Frantastique provides a certificate of completion (Frantastique Certificate) including detailed statistics on progress and participation rate.
---

One of the biggest advantages is the personalization of the learning process, and the short daily schedule helps keep me motivated as it doesn't affect my working day. Samuel

Frantastique is better than just learning French in a traditional way. The mix of language and cultural references integrated into the adventures of Victor Hugo is much appreciated!
Anna -
More testimonials >
Over
3,000,000

users worldwide
---
The easiest, friendliest way to learn French
Your request has been taken into account. In order to help us better personalize your course, please complete the form below:
By entering your email, you agree to our Terms of Use and consent to our Privacy policy (to summarize, we respect your confidentiality and right to privacy!). Since our lessons are sent by email, you will receive emails from us! You can unsubscribe at any time.
Success!
You will receive an email with more details shortly.
Check out our other products and services:
Your request has not been taken into account
because your e-mail address already exists in our data base.
- If you wish to re-test Frantastique, please enter a different e-mail address.
- If you wish to contact our support team,
please click here.
Whoops. We weren't able to handle your request. Please contact our support team (support@frantastique.com) and alert them to the following message:


We apologize for the inconvenience.

The Frantastique team