Vertaling Adverbes de quantite
Probeer Frantastique (Online Franse les) vandaag uit. Want to improve your French?
---
Vertaling & Definitie
Quelques adverbes de quantité
beaucoup (de)
: veel
220 millions ? Waouh ! C'est beaucoup. 220 miljoen? Wauw! Dat is veel.
J'ai beaucoup d'amants. Ik heb veel minnaars.
(un) peu (de)
: (een) beetje, wat
- Tu as peur ? - Oui, un peu. -Ben je bang? -Ja, een beetje.
Je voudrais un peu de sel, s'il vous plaît. Ik zou graag wat zout willen, alstublieft.
pas du tout
: helemaal niet
Je n'aime pas du tout les olives. Ik hou helemaal niet van olijven.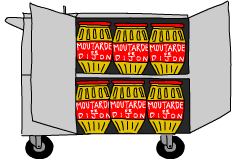 Voorbeelden
"Ça me fait faire un peu de sport !"
"Napo I a clairement accompli beaucoup de choses."
"Soit dit en passant, tes clés étaient très bonnes, surtout avec un peu de lessive (je vais t'en racheter aussi)."
"C'est quand même agréable d'avoir un peu de musique dans l'ascenseur."
"Je vous souhaite, à vous et à votre fenêtre du septième étage beaucoup de bonheur."
"Salarié dans l'entreprise depuis maintenant 37 mois et quelques heures, j'assume les fonctions d'homme de ménage et chef d'opérations avec beaucoup de satisfaction et d'épanouissement."
"- Beaucoup de rendez-vous aujourd'hui, Céline ?"
"Gérard Therrien : Vous avez dit "pas du tout rentable" ?"
"Vidéo : Le « café clope caca » est le petit déjeuner préféré de beaucoup de Français : un espresso, une cigarette, et hop !"
---
Still having difficulties with Adverbes de quantite (Franse woordenschat en vertalingen)? Want to improve your French? Test our online French lessons and receive a free level assessment!
---
Do you have smart way of remembering Adverbes de quantite?
Share it with us!