Les questions courantes
Probeer Frantastique (Online Franse les) vandaag uit. Want to improve your French?
---
Les questions courantes
Que fais-tu dans la vie ? Wat voor werk doet u?
Je suis physicien nucléaire. Ik ben een kernfysicus.
Quel âge as-tu ? Hoe oud ben je?
J'ai 18 ans. Ik ben 18 jaar oud.
Ça fait combien de temps que tu es ici ? Hoe lang ben je hier al?
(Ça fait) 2 mois, 2 semaines et 4 jours. (Sinds) 2 maanden, 2 weken en 4 dagen.
Où habites-tu ? Waar woon je?
J'habite à Nice, dans le sud de la France. Ik woon in Nice, in het zuiden van Frankrijk.
D'où viens-tu ? Waar kom je vandaan?
Je viens d'Allemagne, mais j'ai beaucoup vécu à Stockholm. Ik kom uit Duitsland, maar ik heb lang in Stockholm gewoond.
Quand est ton anniversaire ? Wanneer ben je jarig?
(Mon anniversaire est) le 15 juillet. (Mijn verjaardag is) 15 juli.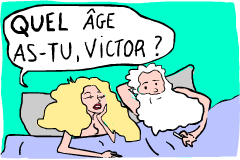 ---
Still having difficulties with Les questions courantes (Franse grammatica )? Want to improve your French? Test our online French lessons and receive a free level assessment!
---
Do you have smart way of remembering Les questions courantes?
Share it with us!