Les nombres ordinaux
Probeer Frantastique (Online Franse les) vandaag uit. Want to improve your French?
---
Les nombres ordinaux
Bij rangtelwoorden vanaf
2e
voegen we
ième
toe aan de spelling van het hoofdtelwoord.
1 premier/première
eerste
2 deux

ième
tweede
3 trois

ième
derde
4 quatr

ième
vierde
5 cinqu

ième
vijfde
6 six

ième
zesde
7 sept

ième
zevende
8 huit

ième
achtste
9 neuv

ième
negende
10 dix

ième
tiende
Voorbeelden:
Adèle est la cinquième enfant de Victor Hugo. Adèle is het vijfde kind van Victor Hugo.
Marcel est sorti deux centième de sa promotion. Marcel is als tweehonderdste van zijn jaargang afgestudeerd.
Bij getallen groter dan
vingt et un
(21) en eindigend op 1 doen we het volgende:
21
vingt
et unième
eenentwintigste;
31
trente
et unième
eenendertigste
1001
mille
et unième
duizendeneerste
101 cent
unième
honderdeneerste;
201 deux-cent
unième
tweehonderdeneerste
Opmerking:
• De volgende spelling:
treize treizième, quinze quinzième (we halen de laatste e weg voor we ième toevoegen)
cinquième, trente-cinquième (we voegen een u toe na cinq)
neuvième, soixante-neuvième (bij neuf verandert de f in een v)
• De woorden
deuxième
(afgekort tot
2e
) en
second
(afgekort tot
2nd
) zijn beide goed.
• De afkortingen
3e
en
3ème
(of
14e
en
14ème
, etc) zijn beide goed.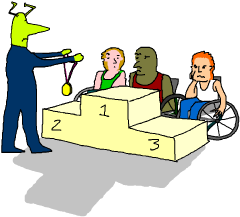 ---
Still having difficulties with Les nombres ordinaux (Franse grammatica )? Want to improve your French? Test our online French lessons and receive a free level assessment!
---
Do you have smart way of remembering Les nombres ordinaux?
Share it with us!