La météo
Probeer Frantastique (Online Franse les) vandaag uit. Want to improve your French?
---
La météo
Voor het beschrijven van het weer gebruiken we constructies met de onpersoonlijke derde persoon
il
:
•
Il fait
(letterlijk 'het maakt/het doet')
Quel temps fait-il ? Wat voor weer is het? Hoe is het weer?
Il fait beau (temps). / Il fait mauvais. / Il fera un temps magnifique demain. Het is mooi weer. / Het is slecht weer. / Morgen wordt het schitterend weer.
Quelle température fait-il ? Hoe warm/koud is het? Wat is de temperatuur?
Il fait 20 degrés. / Il fait chaud. / Il fait froid. Het is 20 graden / Het is warm. / Het is koud.
•
Il + werkwoord
Il neige. Het sneeuwt
Il va beaucoup pleuvoir. Het gaat hard/veel regenen.
•
Il y a + zelfstandig naamwoord
Il y a du vent / du soleil. Het waait/de zon schijnt, het is zonnig.
Il y a beaucoup de nuages. Er zijn veel wolken, het is erg bewolkt.
Il y a une tempête. Het stormt, het is stormachtig.
Opmerking: Het is natuurlijker om
il pleut
(het regent) te zeggen dan
il y a de la pluie
(Er is regen)
.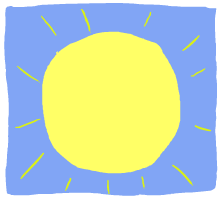 ---
Still having difficulties with La météo (Franse grammatica )? Want to improve your French? Test our online French lessons and receive a free level assessment!
---
Do you have smart way of remembering La météo?
Share it with us!