C'est, voici, voilà
Probeer Frantastique (Online Franse les) vandaag uit. Want to improve your French?
---
C'est, voici, voilà
Als we iemand willen voorstellen of iets willen introduceren, dan gebruiken we:
•
c'est, ce sont
met een
zelfstandig naamwoord
of een
voornaamwoord
PRONOMS TONIQUES
Cette femme, c'est ma mère. Deze vrouw is mijn moeder.
Les deux garçons, ce sont mes frères. Die twee jongens zijn mijn broers.
- Allô c'est qui ? - C'est moi, Muriel. -Hallo, wie is daar? -Ik ben het, Muriel.
Lui, c'est mon frère. Hij is mijn broer.
•
voici, voilà
+
zelfstandig naamwoord
Mesdames et messieurs, voici Victor Hugo ! Dames en heren, hier is Victor Hugo!
Voilà votre baguette. Hier is uw stokbrood.
Opmerking
:
C'est
wordt gebruikt met zelfstandig naamwoorden enkelvoud,
nous
en
vous
.
Ce sont
wordt gebruikt met
eux
en
elles
. In gesproken Frans zult u vaak
c'est
horen met zelfstandig naamwoorden in het meervoud.
- Qui a volé mes bijoux ? C'est vous ? - Ah non, ce n'est pas nous, ce sont eux ! -Wie heeft mijn sieraden gestolen? -Waren jullie dat? -Nee, wij waren het niet, zij waren het!
- C'est qui ? - C'est mes parents. -Wie zijn dat? -Dat zijn mijn ouders.
Let op
:
Verwar
c'est
niet met
il est
.
C'est Victor. Il est écrivain. Dat is Victor. Hij is schrijver.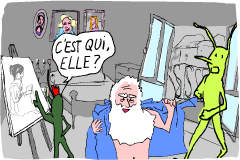 ---
Still having difficulties with C'est, voici, voilà (Franse grammatica )? Want to improve your French? Test our online French lessons and receive a free level assessment!
---
Do you have smart way of remembering C'est, voici, voilà?
Share it with us!