Our offers > Universities



Universities and other schools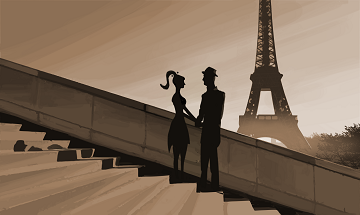 Frantastique is an ideal complement to university French courses. The program lends itself perfectly to the schedule of a university or college student, allowing them to practice French daily and consolidate their acquired knowledge over the long term. Supervision tools are made available to teachers and administrators to monitor students' progress, allowing teachers to design complementary lesson plans.
Accessible for everyone: anyone with an e-mail address can follow a Frantastique training course. There are no complicated technical requirements.
---
Certification & Diploma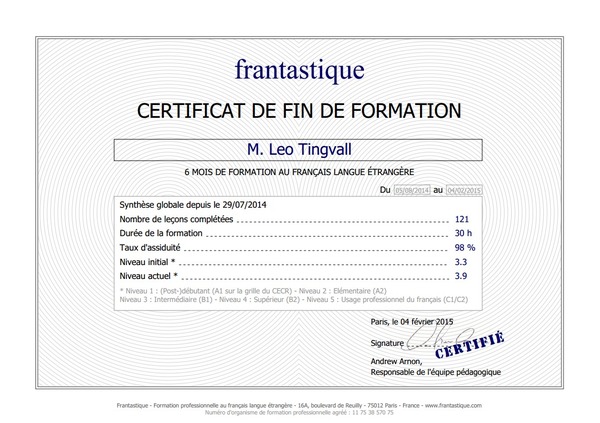 CERTIFICATE OF COMPLETION
Upon finishing your training, Frantastique provides a certificate of completion including detailed statistics on progress and participation rate..
CECR & EQUIVALENCE
Frantastique provides students and teachers with the equivalence of their CECR (European reference for language proficiency) levels.
---
Supervision
Supervision tools and a dedicated web space are provided for the teachers and administrators. This space provides a snapshot of students' progress within the French course, and includes detailed information about scores, participation rates, and more, allowing teachers to track and assess each student's progress easily, individually and within a group. Students are evaluated continuously throughout the lessons on a scale of 0 (beginner) to 5 (professional mastery of international French).
Frantastique & Teacher
Frantastique & Teacher is intended to strengthen the synergy between university French courses and daily practice. Each student has access to an interface in the margin of their Frantastique e-mails for selecting the points they would like to review with the teacher. Teachers receive an up-to-date 'teacher's brief' by e-mail before every lesson, detailing the common objectives and needs of the class. This option is available to Frantastique University users at no extra cost, and can be activated at any time for any teacher for the duration of a Frantastique University subscription.
More than
40 colleges and universities use our method

More >
University Program: Terms of the offer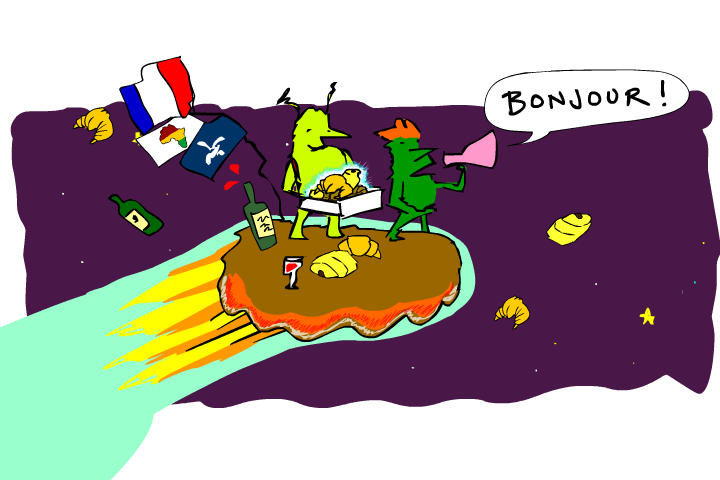 University
School administrators or professors guarantee both the authenticity of the list of students using the program, and assure the students' supervision (evaluations, scoring and participation rate). Additionally, the university agrees to communicate about their experience using Frantastique, as well as link exchanges on our respective websites.
Frantastique
Frantastique offers one month of free trials for an unlimited number of students. The tools for continuous supervision and evaluation of students will be provided for teachers and administrators.
The advantages
Prices
The 'Frantastique University Program is addressed to professors and administrators of universities and educational institutions. Please
contact us
for more information.
| | | | |
| --- | --- | --- | --- |
| | Max. Number of lessons | Max. Duration | Price |
| 6 months | 120 lessons | 30 hours | $95 / license |
| | | | |
| --- | --- | --- | --- |
| | Max. Number of lessons | Max. Duration | Price |
| 6 months | 120 lessons | 30 hours | 90 € / license |
| | | | |
| --- | --- | --- | --- |
| | Max. Number of lessons | Max. Duration | Price |
| 6 months | 120 lessons | 30 hours | £ 64 / license |
| | | | |
| --- | --- | --- | --- |
| | Max. Number of lessons | Max. Duration | Price |
| 6 months | 120 lessons | 30 hours | $ CAD 118 / license |
---