Poste de travail
French vocabulary & translations (see all)
Want to improve your French? Test our online French lessons for free!
---
Definition
un poste de travail : a work station
un poste (dans une entreprise) : a job, a position (in a company)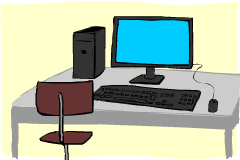 Examples
"Bon, on fait quoi pour votre poste ?"
"Fabienne Glasson : Bonjour Fifi, je suis Fabienne Glasson, directrice des ressources humaines de l'AIGF, je vous appelle concernant le poste de chien."
"Je soussignée, Solange Petitperrin, ai l'honneur de vous présenter ma démission du poste d'assistante-secrétaire-hôtesse d'accueil, à compter de ce jour."
"Objet : Candidature pour le poste de « petit ami de Jeanine »."
"Après diverses expériences dans les domaines de Rachel, Marion, Marie-Laure n°1, Delphine, Marie-Laure n°2, je me permets de vous adresser ma candidature pour le poste de petit ami de Jeanine Lacoste."
"Je vous fais part de mon intention de démissionner du poste de secrétaire d'accueil."
"Depuis trois mois, les employés de Glandi étaient privés de leurs deux verres de rouge et cinq tranches de fromage contractuels, qui plus est forcés de rester à leur poste entre 16 et 17h avec Internet comme seul rafraîchissement."
"Je te remercie pour ta candidature au poste de petit ami pour moi-même."
"La station spatiale sur laquelle il poursuit sa prochaine formation se situe à deux années-lumière du siège de l'AIGF… l'idéal serait donc que je puisse obtenir un poste sur une planète plus proche, comme par exemple Bourgogne-sur-Vénus, Port-aux-Princesses, ou quelque chose dans la galaxie Bouillabaisse."
"Jeanine : Certes, mais, si vous-même ne savez pas quel poste j'occupe, comment voulez-vous que je le sache moi-même ?"
---
Still having difficulties with Poste de travail? Want to improve your French? Test our online French lessons and receive a free level assessment!
---
Do you have smart way of remembering Poste de travail?
Share it with us!