French lessons for schools and universities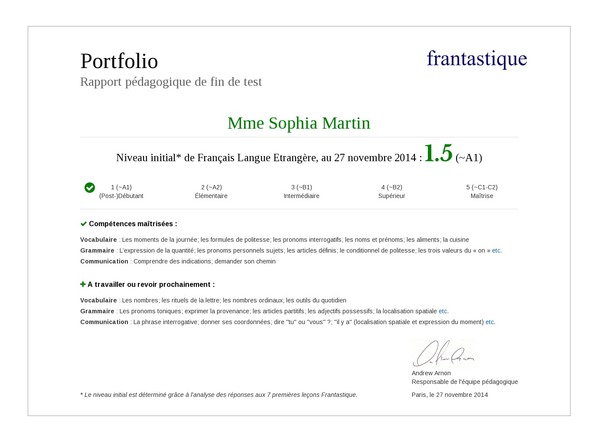 Level assessment
Our free test includes a level assessment and a Portfolio (a personalized pedagogical report).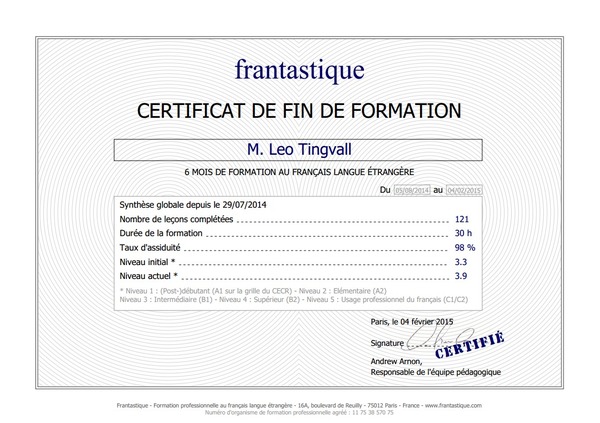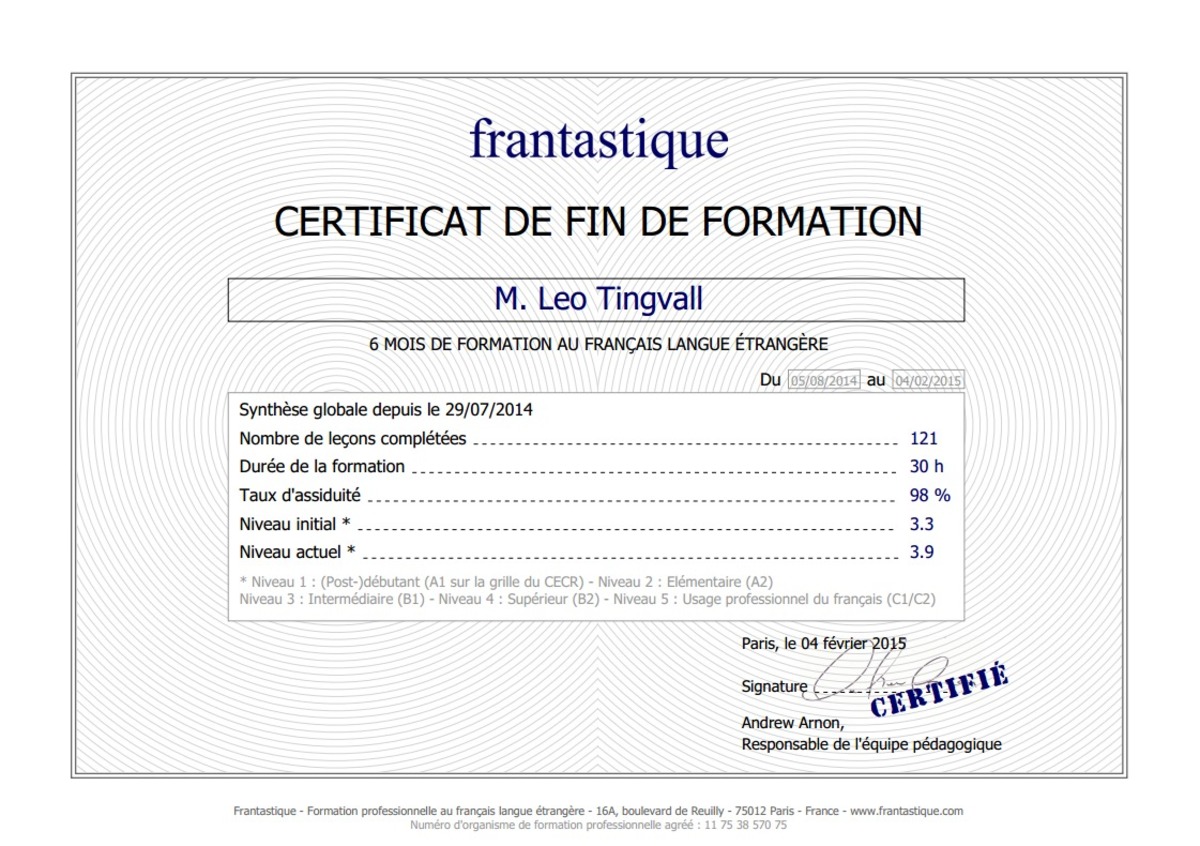 Diploma & Certification
Upon finishing your training, Frantastique provides a certificate of completion (Frantastique Certificate) including detailed statistics on progress and participation rate.
---
How it works?
1 A fun, daily e-mail
Every day, you'll receive a selection of exercises, texts, dialogues, and mini-lessons in French. These include original stories and historical notes that match your level and objectives.
2 Personal feedback
Once you have sent your answers, you will receive a correction with your daily score, as well as personalized explanations and information.
3 Intelligent lessons
The course adapts to your wishes, needs, and learning speed. An artificial intelligence engine builds each lesson to focus on the points you struggle with, as well as the topics you've requested.
---
Fun, practical, business-related content
We decided to create scenarios for all of the content by using a deliberately humorous tone and by referencing up-to-date topics that interest all of us on a daily basis: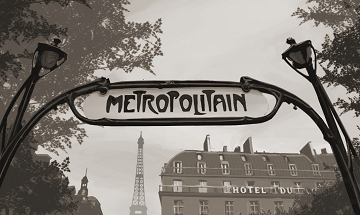 Follow the adventures of Victor Hugo as he explores the Francophone universe.
Different characters with a variety of accents and jobs.
Humor and situations in the workplace. Stories about corporate life, its common problems, meetings, e-mails, and telephone conversations... but also the conversations around the water cooler, trips, cultural differences, and more.
---
Our references


One of the biggest advantages is the personalization of the learning process. The short daily schedule (15 minutes for the lesson and 5 to review the correction) helps maintain motivation and participation as it doesn't affect your working day. Samuel

Frantastique is better than just learning French in a traditional way. It allows me to improve my skills. There's no need to spend a lot of time on each lesson, and the mix of pedagogy and cultural references integrated into the adventures of Victor Hugo is much appreciated!
Anna -
More testimonials >
More than
3,000,000

people use our method
---
---
EDU Pricing (tax excluded)
| | | | |
| --- | --- | --- | --- |
| | Max. Number of lessons | Max. Duration | Price |
| 6 months | 120 lessons | 30 hours | 63 € / license |
| 9 months | 180 lessons | 45 hours | 81 € / license |
| 12 months | 240 lessons | 60 hours | 90 € / license |
| | | | |